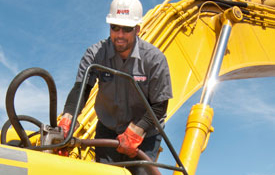 We deliver to construction sites, trucking companies, farms, manufacturing and processing facilities, property management companies, industrial complexes and more.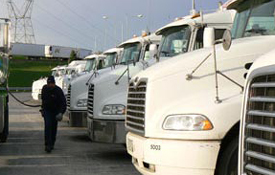 Save time and money – let us fuel your trucks overnight. Asking your drivers to fuel up each day is wasting serious profit! Instantly productive and predictable.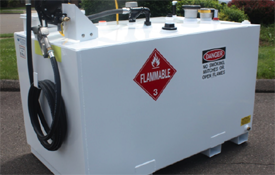 Would you like to be able to store additional fuel at your jobsite? We have the perfect solution for you: rent one of our portable, high quality skid tanks!
Why Choose Us?
Domino Fuel is one of the leading independent distributors of diesel fuel and heating oil in Suffolk County, NY. We are locally owned and operated, with over 25 years of experience in providing reliable service and competitive prices.
Reliable Diesel Fuel Deliveries Throughout Long Island
Do you need wholesale diesel fuel to power your trucks, machinery, farm equipment, tractors, mining vehicles or generators on Long Island? Domino Fuel will deliver any amount of ultra-low sulfur diesel for your business, whenever you need it. Contact us today for on-road and off-road diesel prices on Long Island.
Fleet Fueling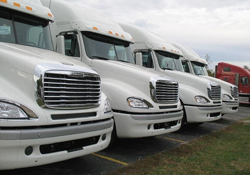 If you have a fleet of trucks or buses, you know how much diesel your machines burn, and how much time your drivers spend fueling the trucks. Asking your drivers to fuel up each day is wasting serious profit! Let us fuel your trucks overnight so your drivers and equipment can be on the road at dawn.
That's why you need onsite diesel fuel delivery. You will get the best price and a guarantee that you will always have enough fuel for your vehicles remaining on the road every day. We can also provide you with an affordable tank rental option so that your trucks can be filled up onsite. If drivers are able to get on the road instead of fueling up, they can make an extra delivery, and you can get a truck or two on the road sooner.
Construction And Job Sites
Domino Fuel will work with you to provide you with cost-effective on-site fueling. We'll come to your job site and deliver clean, ultra-low sulfur diesel!  As business expenses rise, on-site fueling becomes more and more cost-effective. Some of the advantages include:
Keeping better track of fueling expenses, one price for all your trucks.
Eliminating your storage and fueling equipment while freeing your fueling staff for other assignments.
Maximizing driver's productivity by eliminating driving to and from fueling locations.
Our professional drivers provide you with timely metered deliveries.
We deliver clean low-sulfur diesel for your working machinery and generators. You will always have enough diesel fuel for all your equipment, including generators and trucks.
Generators
Power supply today is stable and reliable, but sometimes emergencies happen. And any time you lose power it costs you. You can always be sure that you will have power supply by having a generator onsite.
Farm Diesel Delivery for Long Island
Your company needs diesel fuel to run. In the agricultural field, tractors, irrigation pumps and threshing machines, and other equipment are predominantly diesel powered. With us you can be sure that you can always have high quality diesel fuel delivered to your farm.
All Other Needs
Diesel is a multi-use fuel, powering all known large machines on and off road. We will deliver any amount of diesel to your desired site and fill your inventory all across Long Island. With us, you will always have access to any amount you need and you will never have to worry about running out of fuel. Call us now to ask about current rates and arrange your delivery.
Call Us Today For Pricing Or to Arrange a Diesel Delivery
631-801-0202