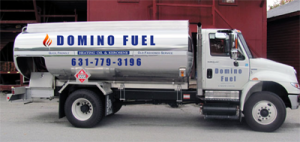 Dedicated to service and quality for over 25 years
EZDiesel.com is operated by Domino Fuel – a local heating oil and diesel supplier, founded in 1988 and based in Ronkonkoma, NY. We are family owned and operated, and we believe in serving all our customers efficiently and with honesty.
About Our Diesel Fuel
Our diesel fuel and heating oil always comes from reputable suppliers and local terminal so you can be sure you'll receive the highest quality fuel oil and Ultra-Low Sulfur Diesel, fully compliant with the latest regulations, clean-burning and environmentally-friendly.
Focusing on personal service and timely deliveries, our goal is to provide your company with convenience and low fuel prices. We serve residential and commercial, industrial and agricultural customers throughout Suffolk County, NY. We are committed to providing you with personalized service and timely on-road and off-road diesel fuel and heating oil.
All our drivers are experienced and trained to load and deliver fuel safely and efficiently. You can depend on them to complete your diesel delivery professionally and on time, even during adverse weather conditions.
We'd like to thank all our customers —residential, commercial, industrial and agricultural—for their recommendations and referrals, and for allowing us to serve them for over quarter of a century.
Do you have a need for wholesale diesel fuel to power your trucks, fishing boats, yachts, machinery or generators on Long Island? Domino Fuel will deliver any amount of ultra-low sulfur diesel for your business. No order too small or too big.
For any questions or pricing, please call 631-801-0202